药品详情:
氯西泊Chlordiazepoxide氯地庚波;氯氮卓;利眠宁;甲氨二氮卓;立布龙;Librium;Nack;Clopxide。本品为长效苯二氮卓类药物,作用类似地西泮,但较弱,具有镇静、催眠、抗焦虑、抗惊厥和肌肉松弛作用。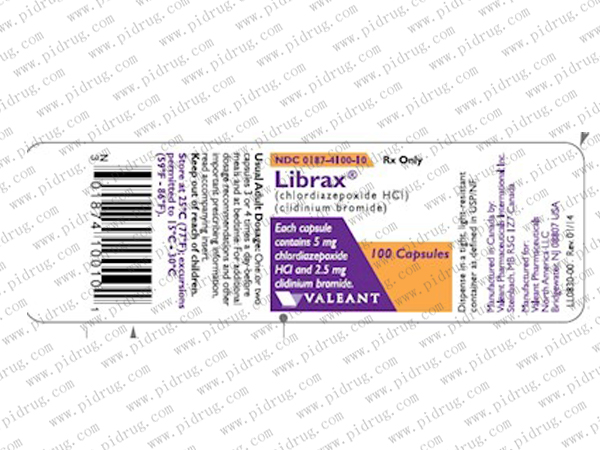 【氯西泊Chlordiazepoxide 适应症】
1.焦虑症、强迫性神经官能症、忆病、神经衰弱病人的失眠及情绪烦躁、高血压头痛,一般性失眠等。
4.乙醇戒断综合征。酒精中毒及痉挛(如伤风和各种脑膜炎所致的抽搐发作)。
本品为胶囊装,每粒含有效成份2.5mg/5mg,每瓶100粒装。
【氯西泊Chlordiazepoxide 服用方法】
2.抗焦虑或镇静:口服每次5~10mg,每天3次。严重病例可增至每次20~25mg。5岁以上儿童镇静用5mg,每天1~3次。
4.解除肌痉挛:成人每天10~30mg,分次服。昏迷抽搐,深部肌内注射或缓慢静脉注射25~50mg,必要时2h重复1次。
6.控制急性乙醇戒断症状:口服25~100mg,需要时可重复给药,最大剂量可达每天300mg。对重症患者,开始可用类似口服的剂量肌内注射或静脉注射。老年与体弱患者应减量至1/2或更少。
【氯西泊Chlordiazepoxide 注意事项】
2.氯西泊能加强吩噻嗪类安定剂(如氯丙嗪)和单胺氧化酶抑制剂(如优降宁)的作用与吩噻嗪类、巴比妥类、酒精等合用时,有加强中枢抑制的危险。
3.老年人用药后易引起精神失常,甚至昏厥,故应慎用。
4.哺乳期妇女及孕妇应忌用,尤其是妊娠开始3个月及分娩前3个月。
【氯西泊Chlordiazepoxide 不良反应】
1.常见嗜睡、头昏、恶心、便秘。大剂量可引起运动失调、尿闭、昏厥。
2.氯西泊以小剂量多次服用为佳,长期应用可产生耐受性和依赖性,男性患者可导致阳痿,久服突然停药可引起震颤、兴奋、失眠等戒断症状。
3.偶有皮疹、粒细胞减少、再生不良性贫血及中毒性肝炎等。
Chlordiazepoxide, trade name Librium among others, is a sedative and hypnotic medication of the benzodiazepine class; it is used to treat anxiety, insomnia and withdrawal symptoms from alcohol and/or drug abuse.
Chlordiazepoxide has a medium to long half-life but its active metabolite has a very long half-life. The drug has amnesic, anticonvulsant, anxiolytic, hypnotic, sedative and skeletal muscle relaxant properties.[1]
Chlordiazepoxide was patented in 1958 and approved for medical use in 1960.[2] It was the first benzodiazepine to be synthesized and the discovery of chlordiazepoxide was by pure chance.[3] Chlordiazepoxide and other benzodiazepines were initially accepted with widespread public approval but were followed with widespread public disapproval and recommendations for more restrictive medical guidelines for its use.[4]
Chlordiazepoxide is indicated for the short-term (2–4 weeks) treatment of anxiety that is severe and disabling or subjecting the person to unacceptable distress. It is also indicated as a treatment for the management of acute alcohol withdrawal syndrome.[5]
It can sometimes be prescribed to ease symptoms of irritable bowel syndrome combined with clidinium bromide as a fixed dose medication, Librax.[6]
Use of chlordiazepoxide should be avoided in individuals with the following conditions:
Acute intoxication with alcohol, narcotics, or other psychoactive substances
Acute narrow-angle glaucoma
Severe liver deficiencies (hepatitis and liver cirrhosis decrease elimination by a factor of 2)
Hypersensitivity or allergy to any drug in the benzodiazepine class
Chlordiazepoxide is generally considered an inappropriate benzodiazepine for the elderly due to its long elimination half-life and the risks of accumulation.[7] Benzodiazepines require special precaution if used in the elderly, pregnancy, children, alcohol- or drug-dependent individuals and individuals with comorbid psychiatric disorders.[8]
The research into the safety of benzodiazepines during pregnancy is limited and it is recommended that use of benzodiazepines during pregnancy should be based on whether the benefits outweigh the risks. If chlordiazepoxide is used during pregnancy the risks can be reduced via using the lowest effective dose and for the shortest time possible.
Benzodiazepines should generally be avoided during the first trimester of pregnancy. Chlordiazepoxide and diazepam are considered to be among the safer benzodiazepines to use during pregnancy in comparison to other benzodiazepines. Possible adverse effects from benzodiazepine use during pregnancy include, abortion, malformation, intrauterine growth retardation, functional deficits, carcinogenesis and mutagenesis. Caution is also advised during breast feeding as chlordiazepoxide passes into breast milk.[9][10]
Sedative drugs and sleeping pills, including chlordiazepoxide, have been associated with an increased risk of death.[11]The studies had many limitations: possibly tending to overestimate risk, such as possible confounding by indication with other risk factors; confusing hypnotics with drugs having other indications;
Common side-effects of chlordiazepoxide include:[12]
§ Lack of muscle coordination
§ Minor menstrual irregularities
§ Swelling due to fluid retention
Chlordiazepoxide in laboratory mice studies impairs latent learning. Benzodiazepines impair learning and memory via their action on benzodiazepine receptors, which causes a dysfunction in the cholinergic neuronal system in mice.[13] It was later found that scopolamine impairment in learning was caused by an increase in benzodiazapine/GABA activity (and that benzodiazepines were not associated with the cholinergic system).[14] In tests of various benzodiazepine compounds, chlordiazepoxide was found to cause the most profound reduction in the turnover of 5HT (serotonin) in rats. Serotonin is closely involved in regulating mood and may be one of the causes of feelings of depression in rats using chlordiazepoxide or other benzodiazepines.[15]
An individual who has consumed excess chlordiazepoxide may display some of the following symptoms:
§ Somnolence (difficulty staying awake)
§ Impaired motor functions
In animal models, the oral median lethal dose of chlordiazepoxide is 537 mg/kg.
Chlordiazepoxide is a drug that is very frequently involved in drug intoxication, including overdose.[20] Chlordiazepoxide overdose is considered a medical emergency and, in general, requires the immediate attention of medical personnel. The antidote for an overdose of chlordiazepoxide (or any other benzodiazepine) is flumazenil. Flumazenil should be given with caution as it may precipitate severe withdrawal symptoms in benzodiazepine-dependent individuals.

注:药品如有新包装,以新包装为准。以上资讯来源于网络或由高等医药院校的学生志愿者翻译(如有错漏,请帮忙指正),仅供医护人员内部讨论,不作任何用药依据,具体用药指引,请咨询主治医师。
如您发现本网站有文字编辑或内容错误,请点击此处发送(需要安装有foxmail或outlook支持),
或发邮件至:info@pidrug.com,香港济民药业感谢您的到访!
欢迎您添加香港济民药业微信,或在公众号内留言。