药品详情:
本品又名多噻平凯舒 ,多虑平,是一种抗焦虑、抗抑郁药品。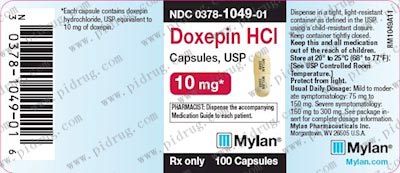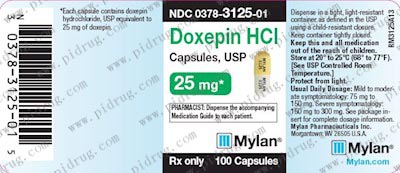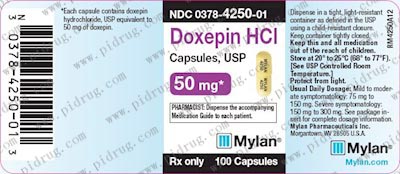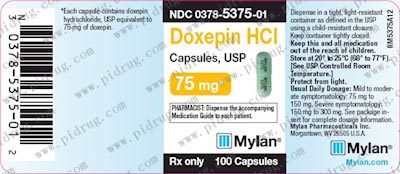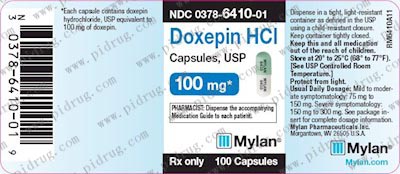 具有抗焦虑、抗抑郁、镇静、催眠、肌肉松弛,抗消化性溃疡作用。适用于各种抑郁症。各类焦虑抑郁状态,消化性溃疡。
本品为胶囊装,每粒含有效成份10mg/25mg/50mg/75mg/100mg,每瓶100粒装。
口服成人常用量:开始一次 25mg,每日l—3次,然后逐惭增至每日150~300mg。
轻微,有口干、乏味、视物不清、便秘、尿潴留、头晕、心悸、低血压、恶心、呕吐、出汗、药疹、光敏感、瘙痒、局部水肿、性功能减退等。
Doxepin is a medication used to treat major depressive disorder, anxiety disorders, chronic hives, and trouble sleeping.[8][9] For hives it is a less preferred option to antihistamines.[8] For sleeping problems it has a mild to moderate benefit.[10] As a cream it is used for itchiness due to atopic dermatitis or lichen simplex chronicus.[11]
Common side effects include sleepiness, dry mouth, constipation, nausea, and blurry vision.[8] Serious side effects may include suicide in those under the age of 25, mania, and urinary retention.[8] A withdrawal syndrome may occur if the dose is rapidly decreased.[8] Use during pregnancy and breastfeeding is not generally recommended.[12][13] It is a tricyclic antidepressant (TCA).[8] While how it works for treating depression is unclear, it may involve increasing the levels of norepinephrine.[8] Although it also has antihistamine, anticholinergic, and antiserotonergic effects.[8]
Doxepin was approved for medical use in the United States in 1969.[8] It is avaliable as a generic medication.[12] A month supply in the United Kingdom costs the NHS at least 100 £ as of 2019.[12] In the United States the wholesale cost of this amount is about 23 USD.[14] In 2016 it was the 239th most prescribed medication in the United States with more than 2 million prescriptions.[15]
Doxepin is used as a pill to treat major depressive disorder, anxiety disorders, and chronic hives, and for short-term help with trouble remaining asleep after going to bed (a form of insomnia).[8][7][9] As a cream it is used for short term treatment of itchiness to due atopic dermatitis or lichen simplex chronicus.[11]
In 2016 the American College of Physicians advised that insomnia be treated first by treating comorbid conditions, then with cognitive behavioral therapy and behavioral changes, and then with drugs; doxepin was among those recommended for short-term help maintaining sleep, on the basis of weak evidence.[16][17] The 2017 American Academy of Sleep Medicine recommendations focused on treatment with drugs were similar.[16] A 2015 AHRQ review of treatments for insomnia had similar findings.[18]
A 2010 review found that topical doxepin is useful to treat itchiness.[19]
A 2010 review of treatments for chronic hives found that doxepin had been superseded by better drugs but was still sometimes useful as a second-line treatment.[20]
Known contraindications include:[21]
Hypersensitivities to doxepin, other TCAs, or any of the excipients inside the product used
A predisposition to developing urinary retention such as in benign prostatic hyperplasia
Use of monoamine oxidase inhibitors in last 14 days[22]
Its use in pregnant and lactating women is advised against, although the available evidence suggests it is unlikely to cause negative effects on fetal development.[7] The lack of evidence from human studies, however, means it is currently impossible to rule out any risk to the fetus and it is known to cross the placenta.[7] Doxepin is secreted in breast milk[1] and neonatal cases of respiratory depression in association with maternal doxepin use have been reported.[23]
Like other TCAs, doxepin is highly toxic in cases of overdose.[25] Mild symptoms include drowsiness, stupor, blurred vision, and excessive dryness of mouth. More serious adverse effects include respiratory depression, hypotension, coma, convulsions, cardiac arrhythmia, and tachycardia. Urinary retention, decreased gastrointestinal motility (paralytic ileus), hyperthermia (or hypothermia), hypertension, dilated pupils, and hyperactive reflexes are other possible symptoms of doxepin overdose.[7] Management of overdose is mostly supportive and symptomatic, and can include the administration of a gastric lavage so as to reduce absorption of the doxepin.[7] Supportive measures to prevent respiratory aspiration is also advisable.[7] Antiarrhythmic agents may be an appropriate measure to treat cardiac arrhythmias resulting from doxepin overdose.[7] Slow intravenous administration of physostigmine may reverse some of the toxic effects of overdose such as anticholinergic effects.[7] Haemodialysis is not recommended due to the high degree of protein binding with doxepin.[7] ECG monitoring is recommended for several days after doxepin overdose due to the potential for cardiac conduction abnormalities.[7]

注:药品如有新包装,以新包装为准。以上资讯来源于网络或由高等医药院校的学生志愿者翻译(如有错漏,请帮忙指正),仅供医护人员内部讨论,不作任何用药依据,具体用药指引,请咨询主治医师。
如您发现本网站有文字编辑或内容错误,请点击此处发送(需要安装有foxmail或outlook支持),
或发邮件至:info@pidrug.com,香港济民药业感谢您的到访!
欢迎您添加香港济民药业微信,或在公众号内留言。